Tokyo gets extremely hot and humid during the summer months, especially late July, August and early September.

Here are our tops tips for the coolest things to do to get out of the heat and have a great time in Tokyo:

1. Beer Gardens in Tokyo

During the summer months in Tokyo, a number of very cool beer gardens open which are very popular. These beer gardens are usually located at the top of buildings like department stores or hotels. Even though they are out doors, they offer all you can drink packages so you can cool down with some refreshing beer, wine or cocktails.

One of the best beer gardens to visit is 130 Days Beer & BBQ Bar which is located on the top of Lumine Est Department Store right next to Shinjuku Train Station. They offer a 2 hour All-You-Can drink package which includes a Japanese BBQ plate with various meats and sausages which you grill at your table. 130 Days is open from June through to the end of September.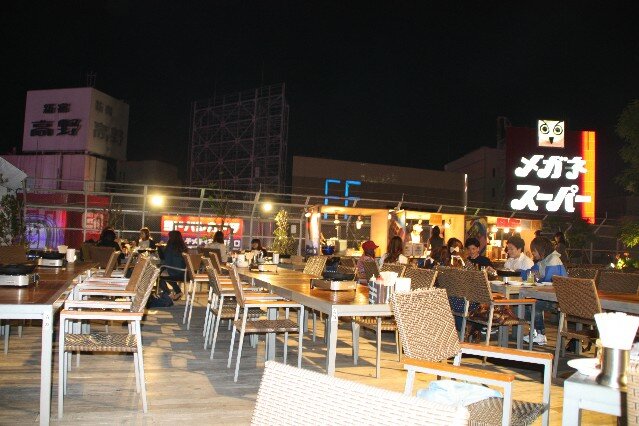 Also check out the beer garden at the Hilton Beer Garden at Tokyo Hilton Hotel in Nishi-Shinjuku. They offer a 1.5 hour All-You-Can drink package for 2,500Rp. Drinks include Asahi or Yebisu Draft Beer, Wine, Shochu, Highball, Smoothie Mojito, Cuba Libra and soft drinks. They also have a selection of food available include Herb and Garlic Bread Y500, French Fries with ketchup and mayonnaise Y500, Potato Wedges with sweet chili sauce Y500, Southern Fried Chicken with chili mayonnaise Y1000, Salt and pepper calamari with nam jin dipping sauce Y1000, Beef and chicken sate sticks with peanut dipping sauce Y1000, Red Hot Buffalo wings Y1500 and Ham and cheese panini Y1500. They have live music every night. Located Level 7 Hilton Hotel Nishi-Shinjuku, the Hilton Beer Garden is open until mid September from 5.30pm - 10.30pm.
2. Visit Tokyo Dome to see the Japanese Baseball
Tokyo Dome is an impressive building which was purpose built at a Baseball stadium and it is totally air-conditioned. Even if you are not a big fan of the Baseball it's worth a visit.
3. Takao Hiking Trails
Around 1 hour from Tokyo, 50Km from the centre of central Tokyo you can get to Mount Takao which has some great walking trails. The hills into Mount Takao are cooler than the concrete jungle of Tokyo. There is a cable car which will take you half way up the mountain. There are also 3 walking trails which will take you to the top of mountain which will take around 1.5 hours. Read more about the walking trails at Mount Takao.
4. Fireworks over Tokyo Bay
During summer there are lots of fireworks displays over Tokyo Bay around O-Daiba. Almost every Saturday night and many Friday nights they have really impressive fireworks. O-Daiba is a great vantage point to view the fireworks with the Rainbow Bridge in the background. Saturday night displays does get very busy so get there early for a good vantage point.
5. Tokyo water parks
There are a number of world class water parks located with in Tokyo with some amazing water slides and attractions. These do get extremely crowded on weekends so try to head their during weekdays for better access to the slides. Check out Tokyo Summerland and Toshima-en Water Park.
6. Head to the beaches
To get to the beach you have to travel outside of Tokyo. The closest and a very popular beach is located just south of Kamakura which will take just over 1 hour on the train to get to. For quieter beaches with good surfing head to Chiba prefecture, on the otherside of Narita airport. It will take around 2 hours to reach these beachs in Chiba.
Last updated 8th August 2012